Data
Data Passes – One-time fee
Data Passes are great if you want to try using data services for the first time or if you only plan to use data a couple times a month on your mobile phone. If you reach your data limit or your pass expires, you'll be notified and given the option to purchase another one.
Note that Data Passes are only available to customers who are on voice-only plans.
Duration

Phones and Smartphones

Data Day pass (24 hours)
$1
20 MB1
Data Week pass (168 hours)
$5
100 MB1
Data Month pass (31 days)
$ 10
200 MB1
Add a Data Pass directly from your Fido phone
1 To get started, perform one of these 3 actions.
Open a browser type in any website address
or
Launch an app such as facebook, twitter, or any email app
or

2 A new screen will appear for you to select the pass you want.
Choose the pass you want
Confirm your purchase
3 You will then receive a confirmation message, and you can start enjoying the Mobile Internet.
Enjoy the Mobile Internet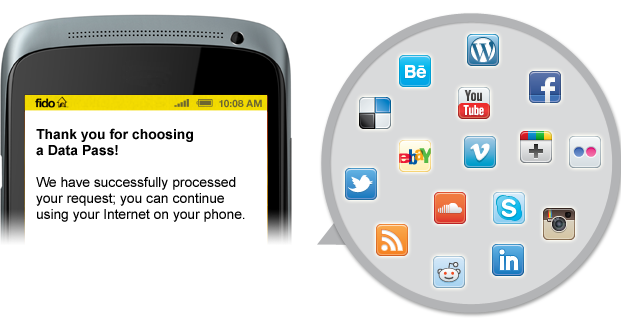 Add a Data Pass
To purchase Data Day/Week/Month Pass, just launch your internet browser and you'll be asked to
purchase a Data Pass when you browse to any chargeable website before you can continue.

Or text YES to 3282 and receive a direct link to purchase!
See full details
Offers subject to change without notice.
Includes 24 hours/168 hours (a week)/31 days (a month), as indicated, from time of activation for on-device mobile browsing, email, Instant Messaging, and application usage, excluding tethering (use as wireless modem), on select Fido-certified devices. See fido.ca/roaming for more details.
Usage subject to Fido Terms and Conditions and Acceptable Use Policy.
1GB = 1,024 MB; 1MB = 1,024 kB
Not sure which
Data Add-on you need?
We can estimate your monthly usage
for you
Click here