eSIM on Device Setup for iPhone
What do I need to complete the eSIM on device setup for my iPhone?
A iPhone XS, iPhone XS Max, or iPhone XR with iOS 12.1 or later
The eSIM card you were provided when Fido activated your line
An active cellular data or Wi-Fi connection
How do I complete the eSIM on device setup for my iPhone?
Step 1:Go to Settings > Cellular
Step 2:Tap Add Cellular Plan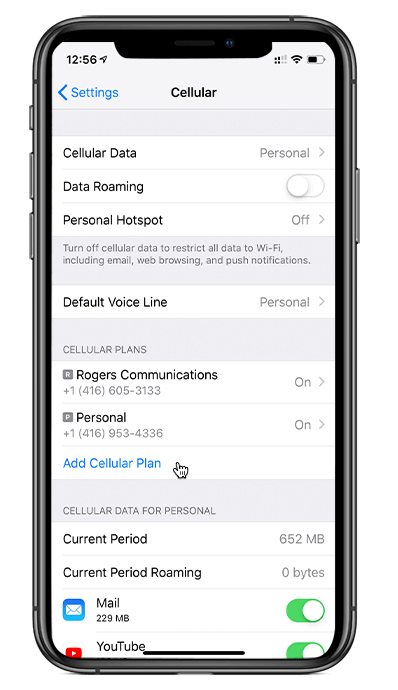 Step 3:Use your iPhone to scan the QR code on the eSIM card your carrier provided
What do I do if my eSIM card is not scanning or unrecognized?
Although a prompt exists for you to enter details manually, you cannot manually enter the eSIM configuration. If you are having trouble scanning your eSIM card, please try the following:
Ensure you have an active data connection on your iPhone; if the eSIM is the only line being activated, please connect to a Wi-Fi network with an active Internet connection in order to complete activation.
Ensure that nothing is blocking or covering the camera lens, and that the full QR code is in the viewfinder of the camera.
If the eSIM card still cannot be successfully scanned, please visit a Fido store for help.
For more information on how to use eSIM with an iPhone, please visit https://support.apple.com/en-ca/HT209044.